Post 16
Post 16 Curriculum
In Post 16 the curriculum is embedded within the four Preparation for Adulthood pathways; Employment, Independent Living, Community Inclusion and Health. This best prepares our young people for life beyond school. We want them to be confident, independent and responsible individuals who feel equipped to make informed choices about their futures.
We consolidate students' prior study and aim to broaden and develop previous skills. Our formal and semi-formal timetable includes Functional Skills sessions. In these, students continue to develop their English and Maths skills, at a level appropriate to the learner, with formal learners sitting Entry Level exams. An emphasis is placed on utilising these skills in very practical 'real life' situations. Students are encouraged to plan and organise their trips into the local community, run their own tuck shop, create and run a business enterprise and to develop skills such as cooking basic meals, using public transport and making medical appointment. Employability lessons help students prepare for their future, no matter what employment may look like for them. They develop the skills needed to become successful employees and this supports them in overcoming barriers to entering work. Meaningful internal and external work experience plays a crucial part in the students' learning.
Students requiring a more sensory approach benefit from accessing a therapeutic curriculum tailored to individual needs, following our informal curriculum.
All students continue to benefit from access to a wide range of creative opportunities.
Students' achievements are accredited through Pearson Edexcel Entry Level Functional Skills in both English and Maths, Entry Level ICT, ASDAN Personal and Social Development, ASDAN Employability, the ASDAN Towards Independence Programmes and also with AQA Unit Awards.
*Schemes of work and Assessment summary available as PDF's at the bottom of the page*
Formal/Semi-formal Curriculum.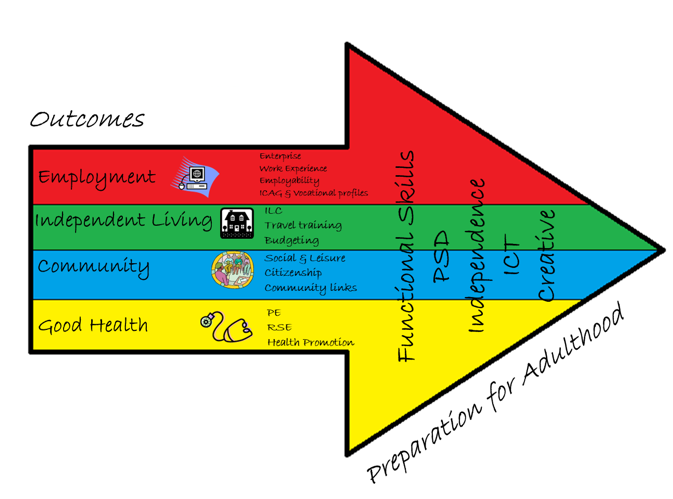 Informal Curriculum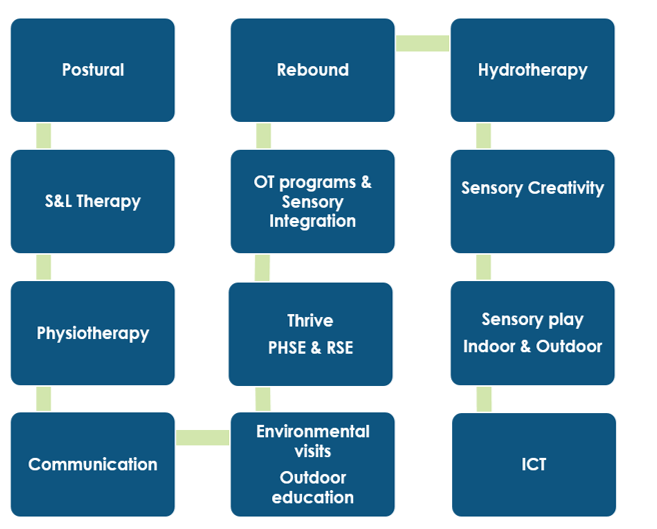 Key Learning Outcomes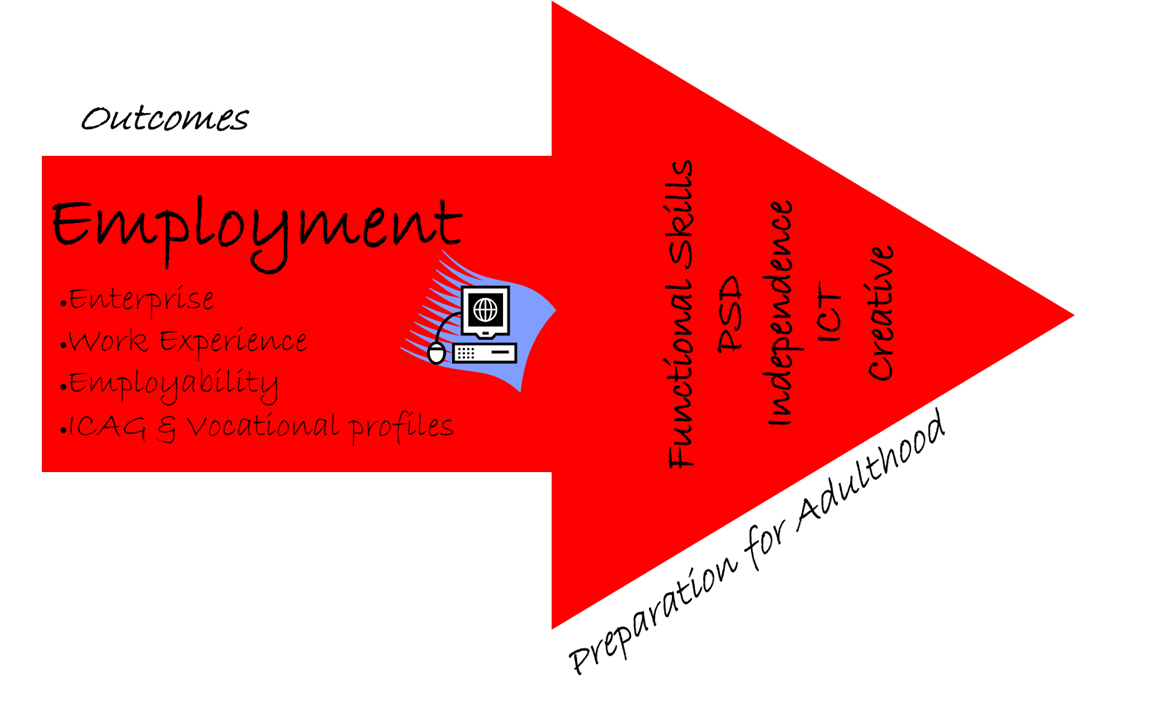 Employment opportunities -
Café 16 - Internal work experience
External work experience
Enterprise; including staff lunches
Team work
ICAG
Vocational profiles
Visits to Post 19 providers
Employer engagement
Skills builder programme
Accreditation links -
ASDAN - PSD

Dealing

with Problems in Daily

Life

Managing

Own

Money

ASDAN - Employability

Maintaining Work Standards

Exploring Job Opportunities

Applying for a Job

Enterprise Skills

Communicating with Others at

Work

Customer Service

Learning

Through Work

Experience

AQA Unit Awards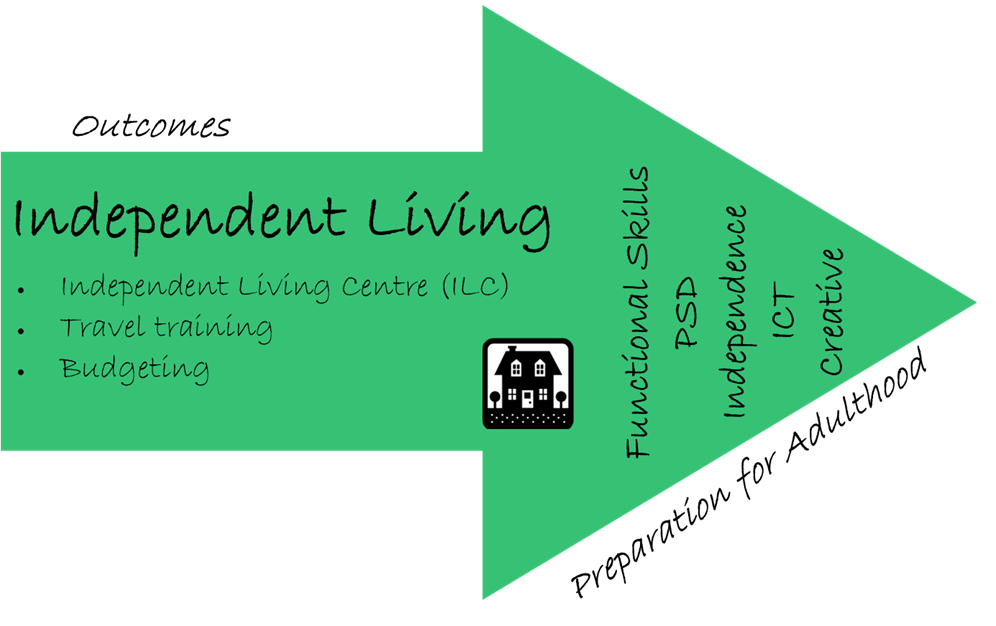 Independent Living opportunities -
ILC

Friday tuck shop

Managing money

Walking between buildings

Independent travel training

Using the café

Responsibility for own belonging

Making choices
Accreditation links -
ASDAN

TI: Independent

Living

Making Breakfast; Making a Hot Drink; Making a Packed Lunch; Making a Main Meal (Lunch or Dinner); Cleaning; Using a Washing Machine; Using a Tumble Dryer; Ironing; Project

ASDAN

- PSD

Making

the Most of Leisure Time

Dealing with Problems in Daily Life

Managing

Own Money

Personal

Safety in the Home and Community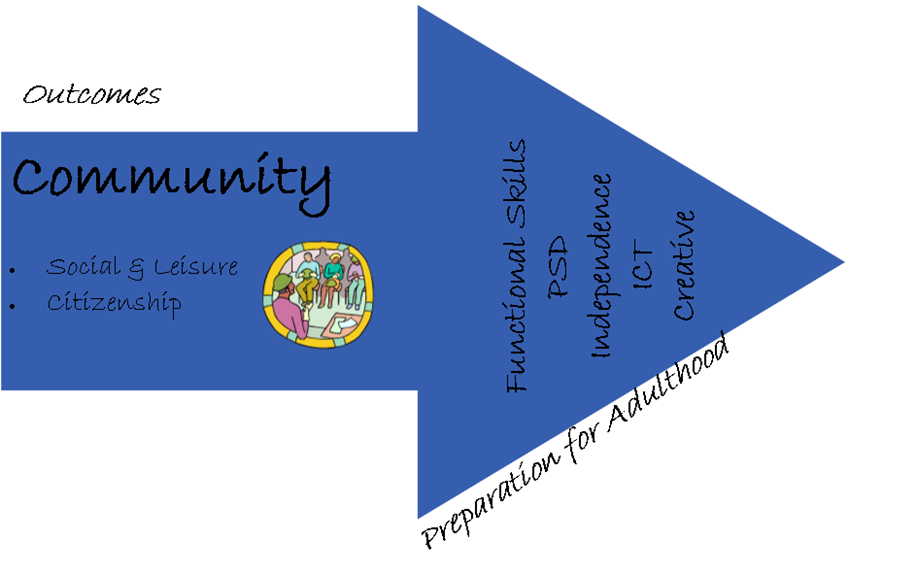 Community Inclusion opportunities -
Friends & relationships

Community outings

Prom

Pupil Voice

Residential visits

After school clubs

Transitions

Environmental awareness

Transferring skills into real life situations
Accreditation links -
ASDAN - PSD

Community Action

Making the Most of Leisure Time

Dealing with Problems in Daily

Life

Environmental

Awareness

Managing

Own

Money

Using Technology in the Home and Community

Personal Safety in the Home and Community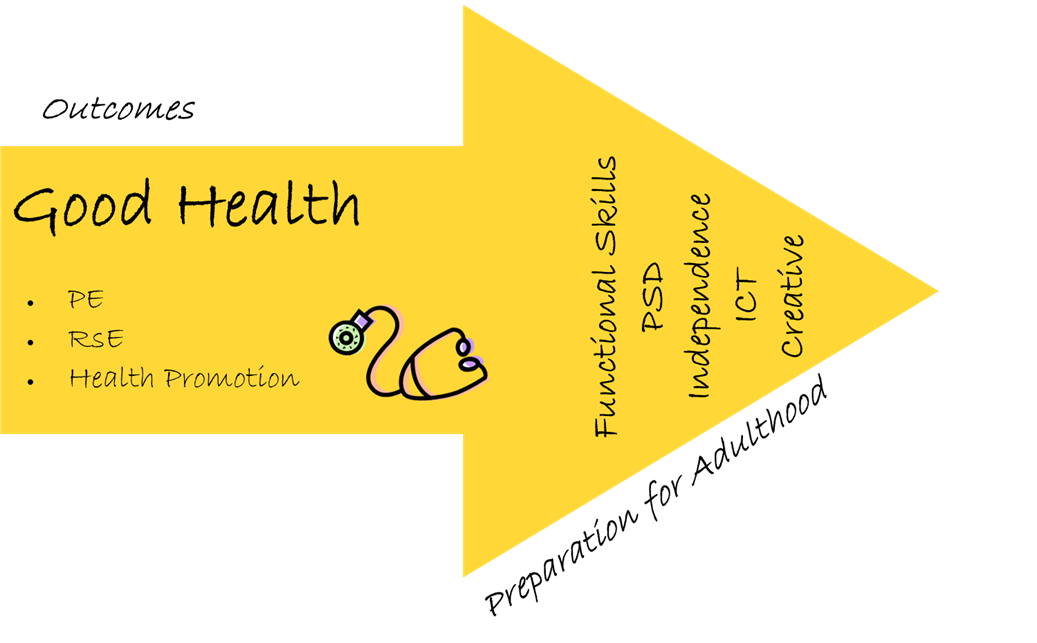 Good Health opportunities -
Personal hygiene

Health & wellbeing

Mental health promotion

Understanding ourselves

Themed week e.g

.

Mental health, friendship,

Anti-bullying

First Aid training

Making healthy choices

Thrive

Physiotherapy

Tree Top programmes

Self-regulating strategies and therapies

Making and attending appointments
Accreditation links -
ASDAN PSD

Managing

Social

Relationships

Developing Self

Healthy

Living