Post 16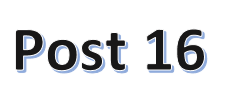 P1 have enjoyed meeting the bamboozle drama team this half term for a swim along the river. We have been busy with our therapies in the pool, on the trampoline and giving our legs a good stretch in our standing frames. In cooking, we've been preparing, smelling and touching fruits and vegetables to make fruit salads and a summer salad. We've taken advantage of the warmer weather and headed to the bike track when we can!
Post 16 have had a very busy half term, this is the news we would like to share -
-Students have passed their Functional Entry Level and AQA Unit awards.
-The Priory Woods Enterprise Team have been working hard. Recently they made ninety-two t-shirts for a local dance school!
-We had an amazing time at our school Prom!
-A group of Post 16 students had a fantastic week in Beamsley on our residential.
-The summer Fair was a huge success! Thank you to those who came along and supported the event.
-A group of students worked with Pupil Participation. They organised The Youth Voice Conference, where they spoke in front of over a hundred people. They have also just delivered a SEND and Inclusion Board Meeting. Well done team!