The World Around Me

The World Around Me
Intent
The World Around Me is an important aspect of the curriculum delivered at Priory Woods School. The experiences and learning that takes place is linked to Science, History, Geography, R.E., Humanities, British Values, Cultural Capital and Outdoor Learning. The teaching and learning is linked to the wide-ranging and well planned half-term topics and will take into consideration the individual needs of the pupils. The indoor and outdoor classroom environments offer broad and balanced enquiry based experiences, that are tailored to be meaningful and linked to the world around our pupils. Our curriculum has the aim to inspire curiosity in the world and depending on the curriculum pathway pupils will be given the opportunity to explore, observe, investigate and compare. All pupils are given the opportunity to take part in educational and residential visits which provide our pupils with meaningful experiences. Enrichment days are planned each half term to allow pupils to explore, learn and research celebrations and festivals, including worldwide and religious occasions, e.g. Eid, Holi festival and birthdays. The world of work is also promoted and begins at the very start of the pupils' journey at Priory Woods School, including role play, work experience, careers talks and exhibitions and school visits to local employers and businesses.
Implementation
The skills, knowledge and experiences we want our children to acquire.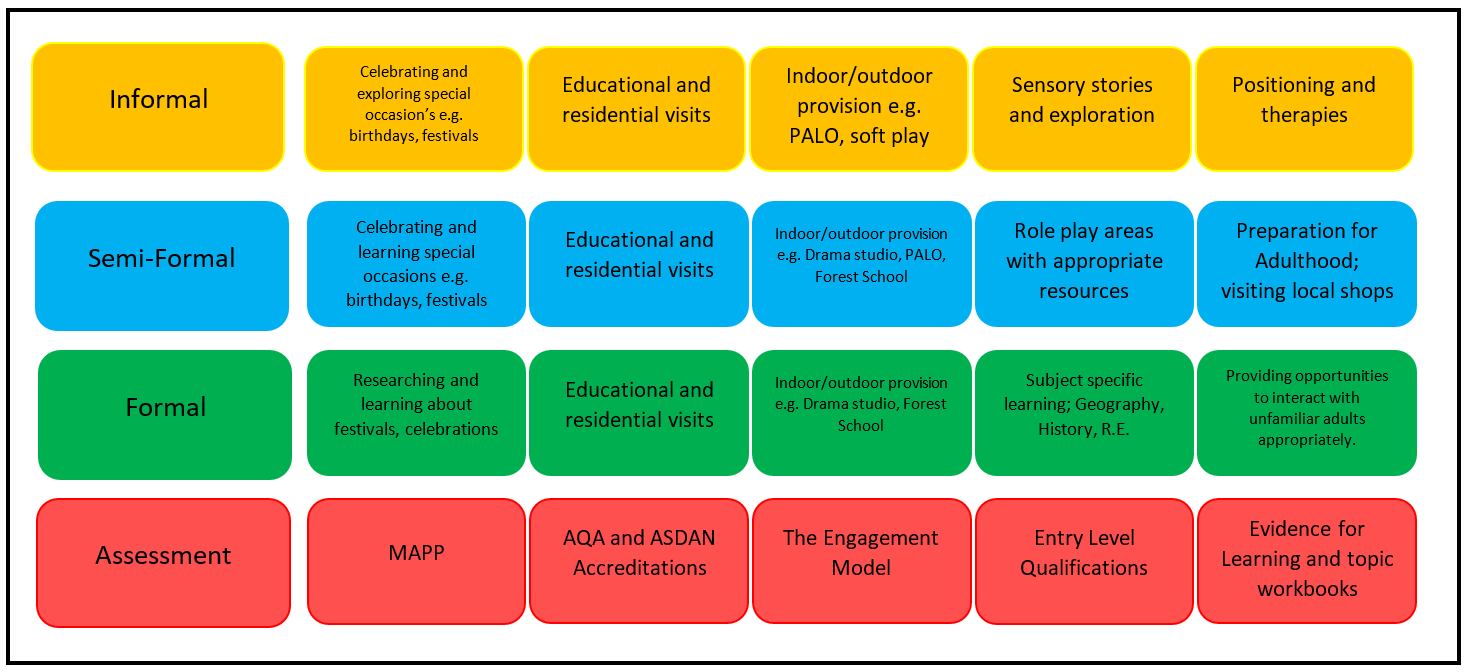 *Please make reference to the World Around Me Curriculum Audit for a more detailed document addressing implementation. PDF available at the bottom of the page*
Impact
Informal
Students can;
Begin to make successful transitions both in and out of school.
Become familiar and learn coping strategies whilst on trips to the local environment.
Transfer these skills into their home life, feedback from parent's children coping better on trips in community.
Be part of life experiences.
Immerse themselves into sensory environments to make sense of the world around them.
Semi-formal
Students can;
Develop a greater understanding of their own world and other cultures and religions.
Have exposure to and understand the local environment and community.
Participate and understand a range of celebrations.
Develop skills to transition and prepare for visits and outings safely.
Gain real life experiences and opportunities.
Develop an understanding of where they are in the world and knowing their place in the world.
Formal
Students can;
Develop and clearly understand their own and others' cultures.
Have an understanding of where they live and the local area.
Use maps/navigation tools/technology to navigate themselves to new places.
Talk about and describe important cultural events and special dates.