Semi-formal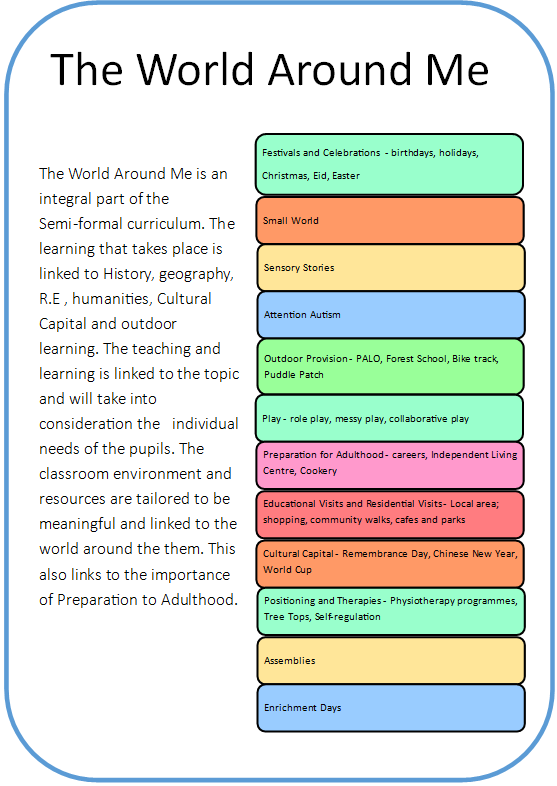 Lower School
· Classroom Provision - tuff tray exploration, small world, role play
· Objects of reference, symbols, daily timetable, jobs/tasks list
· Books, story telling and sensory stories.
· Celebration and Festivals - birthdays, holidays, Christmas, Eid, Easter
· Cultural Capital - Remembrance Day, Chinese New Year, World Cup
· Educational visits - places linked to topic and local areas
· Outdoor Provision - PALO, Forest School, Bike track, Puddle Patch
· Boards in the class and around school - birthdays, All About Me topic, Someone Special.
· Parental engagement and Stay and Play sessions.
Upper School
R.E.
· Celebrations and Festivals - Christingle, Eid, Diwali, Holi
· Cultural Capital - Chinese New Year, Remembrance Day
· Visits; churches, museums, exhibitions
· Assemblies
· Multicultural days
· Exploring artefacts
History
· Sharing their news and news around the world
· Royal Family -Jubilee, The Kings Coronation, Royal Weddings
· Visits - cenotaphs, museums, historical places and exploring photographs and artefacts
· Local and past history - Captain Cook, Bonfire night
· School history, what have we done in the past.
· Timelines
· Role play areas - Victorian Tea Shop, Museum in your classroom, Toy Shop
· Books, sensory stories
Geography
· Educational Visits and Residential trips
· Personal geography e.g. transitions
· Project and Topic based learning e.g. countries through the World Cup,
· Learning how to use Maps including Google Maps
· Climate / weather through stories, sensory drama, countries
· Sensory stories - seasons, capital cities, town and country
· Outdoor learning - Forest Schools, Scavenger hunts
Post 16
The World Around me is delivered within the four Preparation for Adulthood pathways; Employment, Independent Living, Community Inclusion and Health. Semi-formal learners in Post 16 are given the opportunity to learn about the world around them through the following;
· Enterprise
· Educational Visits and Residential trips
· Celebrations and Festivals - Christingle, Eid, Diwali, Holi
· Cultural Capital - Chinese New Year, Remembrance Day, Multicultural days
· Social and leisure opportunities
· Assemblies
· Career and transitions to adult life
· Independent Living Centre