Independence

Independence
Intent
"Never knowingly do something for a learner when you think they might be able to do it for themselves" EQUALS
At Priory Woods School, independence is the ultimate aim for our pupils. We strive to provide a meaningful, purposeful curriculum that will equip them for life relevant to their abilities. The teaching and learning approach from EYFS through to Post 16 is not to do to them or for them but to model, scaffold and provide the opportunities to develop skills to be successful and begin to understand their own capabilities and prepare for adulthood. This can be achieved throughout all aspects of a pupils learning journey; from learning to hang your coat and bag up on a morning, to making your needs and wants to be known, transitioning around different environments and developing independent living and lifelong skills. This will be different for each individual pupil, but independence is encouraged in every curriculum pathway and in every phase of a pupil's school life. Through our broad, balanced and enriched curriculum our pupils learn to build independent skills in order to make choices, learn and practise key skills, discover the world around them, solve problems, be empowered, develop confidence to make mistakes, strive and be resilient.
Implementation
The skills, knowledge and experiences we want our pupils' to acquire.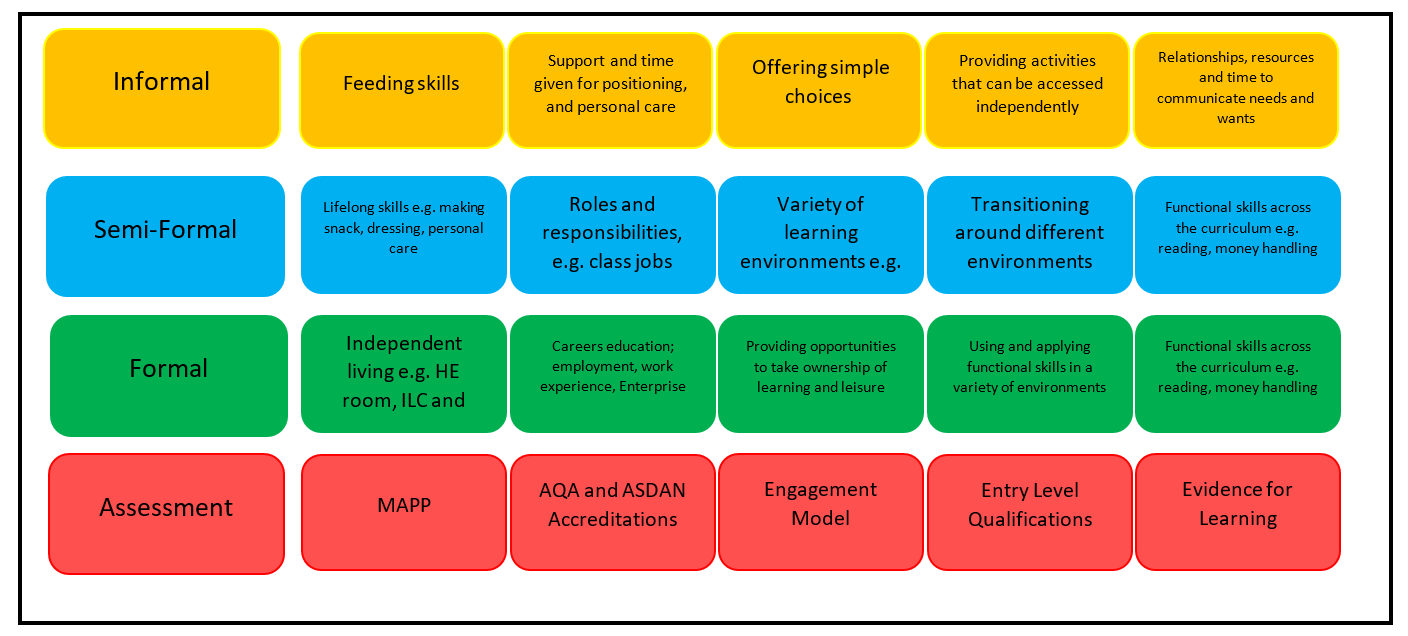 *Please make reference to the Independence Curriculum Audit for a more detailed document addressing implementation. PDF available at the bottom of the page*
Impact
Informal
Students can
Learn how to occupy their own time.
Move around school with familiar adults.
Find resources and explore provision independently.
Learn the skills to develop lifelong skills such as feeding and toileting.
Make independent choices and make these wants to be known.
Semi-formal
Students can
Learn the skills to take on small responsibilities e.g. class jobs, work experience for KS4/5.
Develop skills in line with preparation for adulthood.
Develop independent skills and transfer skills into other environments; getting themselves ready, hygiene, health.
Develop independent life skills e.g. making calls, going to a local supermarket to buy ingredients, through real life role play.
Learn cookery skills – preparing food, washing up, safety with equipment.
Access their learning environment to play and learn both inside and outside (including PALO).
Transition safely around different environments both in school and the community.
Participate in everyday activities such as preparing food, washing up, and safety with equipment.
Formal
Students can
Develop skills in line with preparation for adulthood.
Develop life skills and master those skills.
Look towards independent/supported living.
Learn to expand their own experiences and expectations of themselves.