Formal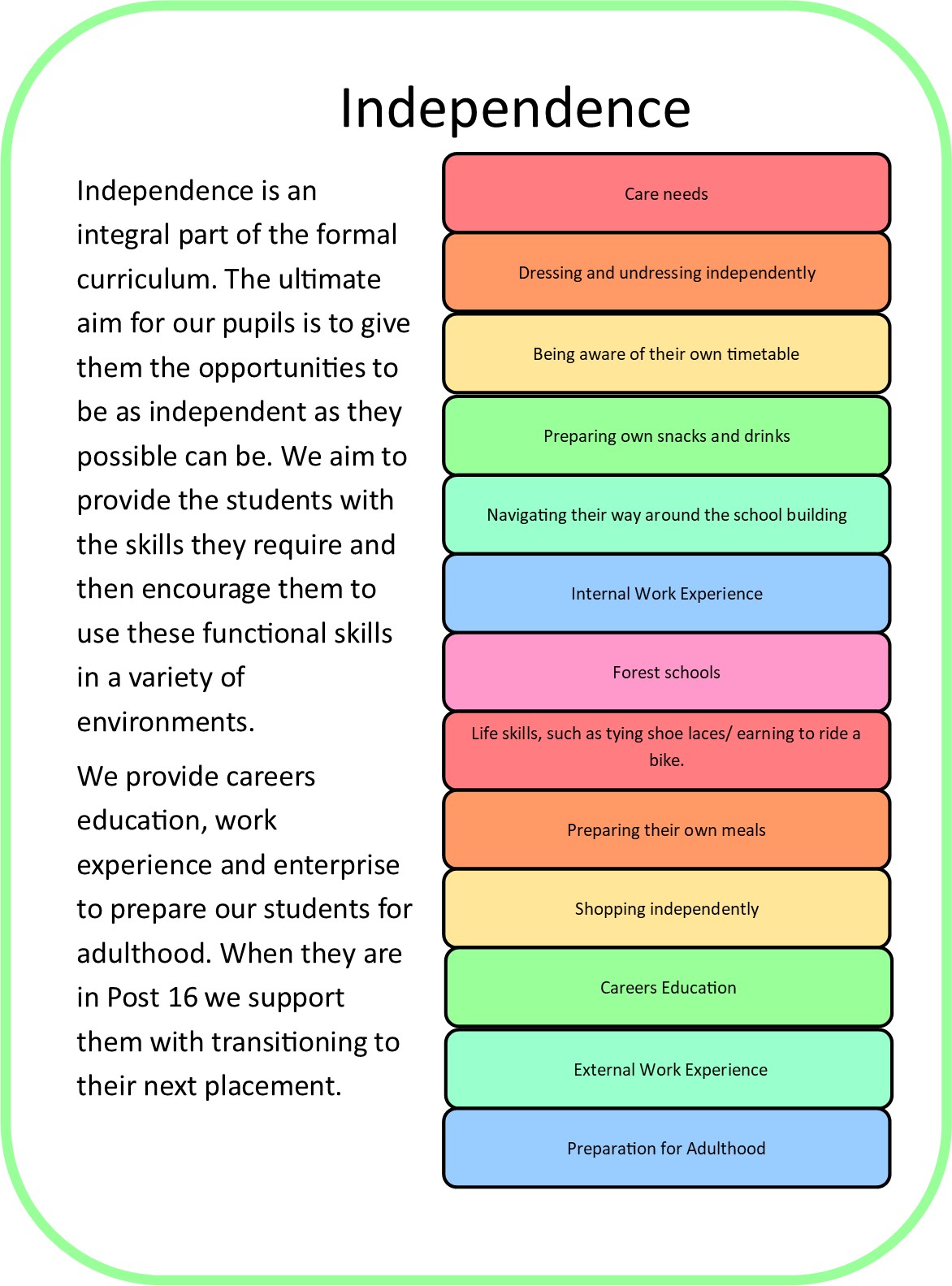 Upper School
We encourage our upper school formal learners to be as independent as they possibly can be, and to also take some ownership of their own learning. We provide them with lots of opportunities to develop their independence skills, both within the classroom and within the community. All of our formal learners participate in a cooking lesson each week, forest schools and internal work experience. These sessions give our students lots of opportunities to be independent, and for staff to have as little involvement as possible.
·

Enterprise Challenge Week

·

Functional maths skills e.g. understanding money

·

Planning own learning and educational trips.

·

Works experience (internal).

·

Outdoor learning e.g. collecting and looking after resources.

·

HE room, going shopping, learning to cook meals, and clean up.

·

Solving real life problems.

·

PSHE and RSE lessons.

·

Using real life tools and equipment to equip them for life beyond school.

·

Transition events.

·

Careers Week.
Post 16
Becoming independent is one of the most important skills to develop in Post 16. We aim to prepare our students for adulthood and for their Post 19 transition. They take part in sessions which encourage independence, including enterprise, travel training, PSD, working in the independent living centre and participating in work experience. All the formal learners will spend time working in our Priory 16 café, and also work experience outside of school. Our aim is to support our students to be as independent as they possibly can be.
·

Developing enterprise business opportunities.

·

Managing finances and budgets.

·

Buying and making own lunches.

·

Handling money and using the till.

·

Visiting other colleges and provision.

·

Taking part in transition and career events.

·

Work experience (internally and externally).

·

Visits to the community.

·

Independent living centre.