Videos - Friendly Faces
Here you can find some Vlogs created by our staff so that you can see a familiar face and complete an activity with them:
Friday 8th May - VE Day 75, We'll Meet Again
Thursday 7th May - Thank You
Priory Woods says a huge thank you to our precious NHS, all the key workers and of course, our wonderful families.
Tuesday 5th May - Make VE Day Bunting with Donna
Friday 1st May - Lockdown News
Wednesday 29th April - The Staff Band
Some of the staff band got together (via the power of the Internet) and made a cover of a well known song. 🙂
Show us your best dance moves. 🐵
Upper school pupils if you want to join in, check your email for some chair drumming ideas. 🙂
Monday 20th April - Independent Living Skills
Saturday 18th April - Thank You Baked Potato
Friday 17th April - Wake up Andy!
Tuesday 14th April - Fitness with Priory Woods Staff
Please join in with the actions and then make up your own moves. Comment below or send them in and perhaps we can show the staff how it's done!
Sunday 12th April - I'm a Spring Chicken
Have a Happy Easter from all of us at Priory Woods School. A fitting Tribute to our lovely Donna.
Friday 10th April - Decorate Eggs with Nicola
Tuesday 7th April - Dawn and the Easter Bunny
Sing, Sign and Dance with Dawn
Monday 6th April - Learn to Sign the Alphabet with Rose
Sunday 5th April - It's Good to be Me
Lee has been busy orchestrating our staff, we hope you enjoy it...
Sunday 29th March - Learn to Sign with Rosie
Saturday 28th March
Thursday 26th March - Kats Wish Bucket
Wednesday 25th March - Jackanory with Lynn
Tuesday 24th March - Make Easter Chicks with Kendra
I know I won't make a vlogger but I thought it would be nice to try to do something together and for you to see a familiar face.
It would be lovely to see pictures of your chicks in this post. Looking forward to seeing you all again soon.
Take care, keep busy and stay safe!
Some of you had great fun making these: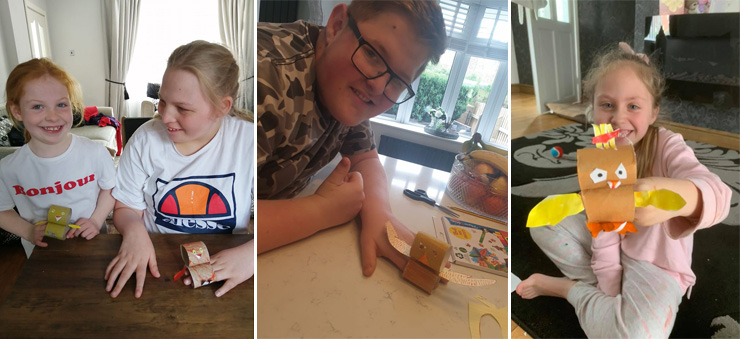 No comments have been left yet.