Week 1
Week One
More ways to stay Wild
Here you'll find resources, guides and videos to enhance your Wild Days experience.
https://www.wild-days.org/more-ways-to-stay-wild
Taking part in 30 Days Wild while homeschooling?
If you're homeschooling and taking part in 30 Days Wild, here are some activities to keep the little ones busy! Link to Activities here
We also have our own page setup with further activities available - here
1. Go for a walk in your garden to see what you can see
You could make some binoculars to help you look more closely: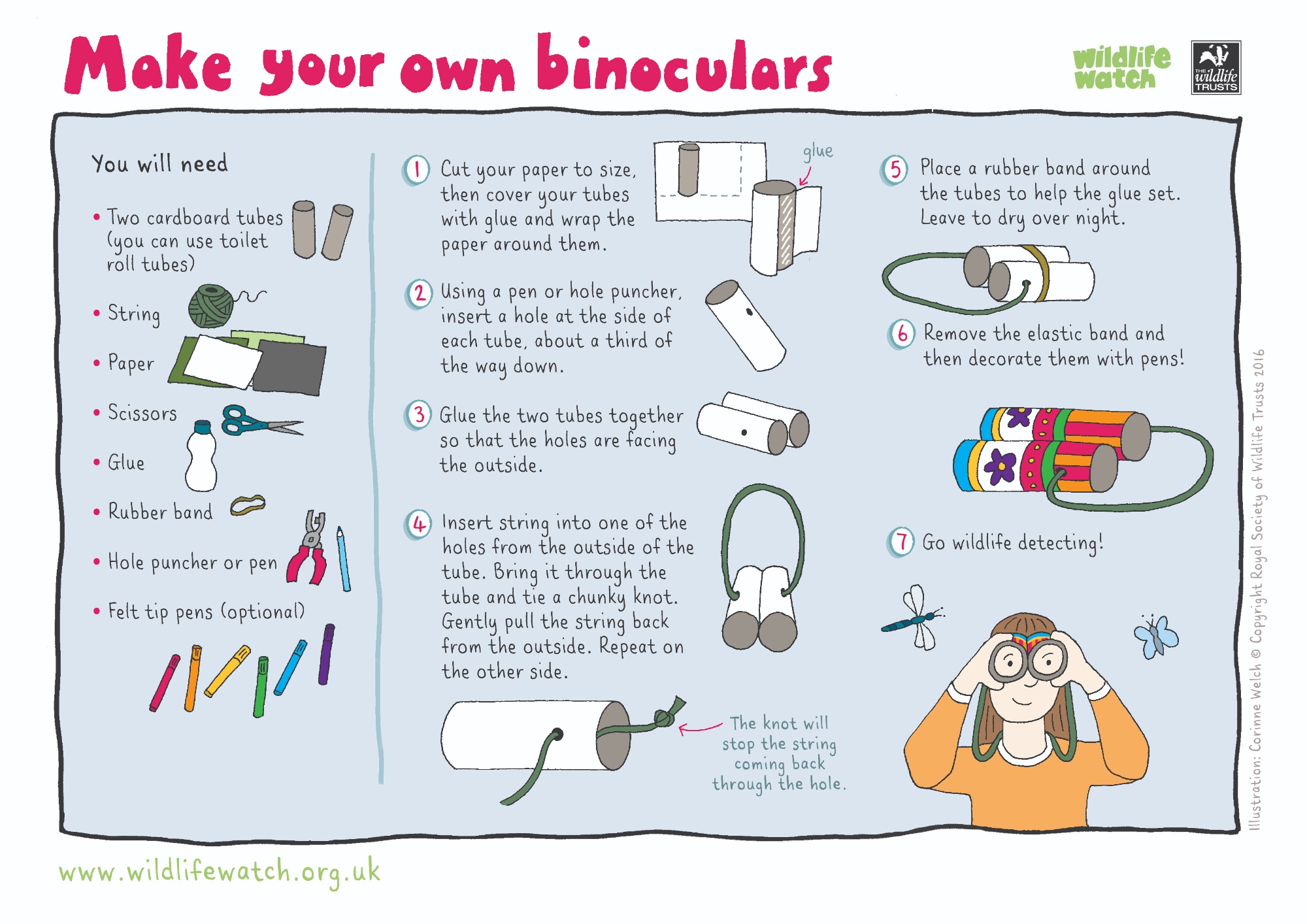 Or you could sing the 'Brown Bear' song like in the video below:
Brown Bear Brown Bear what do you see?
Go outside with your child and say the story with them.
Then repeat the story with their name for example
"Harry, Harry, what do you see?"
Then get them to reply with "I see a ………….. looking at me"
Have fun with this as you walk around the garden.
2. Nature Treasure Hunt
Use an old egg box or Yorkshire pudding tin.
Fill each space with an object you can easily find in your garden.
Ask your child to go and find one that matches.
SUPPLIES NEEDED FOR THIS COLOR SCAVENGER HUNT
– white paper lunch bag
– markers
1. Write "Colour Scavenger Hunt" at the top of your white paper lunch bag.
2. Choose the colours you want the children to hunt for and use your coloured markers to scribble small squares onto the front of the bag of each colour.
3. Pass out the bags to the children and let them have fun finding all of the colours on the bag. When they find an item that matches one of the colours, place it in the bag. When everyone is finished, sit in a circle and have a fun time having a show and tell about all of the items everyone found.
4. Natural Art
Make a picture of the people in your family using things found in your garden, at the park, on a walk or even on the beach.
5. Make a Bird Feeder
You will need
Apples
Bread
Hard cheese
(cut all of the above into cube-sized pieces)
Raisins
Floral wire
String
Step-by-step guide